Modeca is gearing up for a hugely busy three days at The London Bridal Show, which will kick off on Sunday at Olympia.
In the busy run-up to the show Modeca director Dick van Zutphen took ten minutes for a quick chat with Bridal Buyer.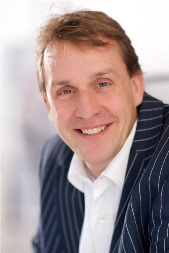 Q. What are the key plans from Modeca this year and for the 2016 collections?
This year, Modeca is going to re-launch its branding. We shake up the bridal world with new design and fashion every year because we want to see our brides-to-be perfectly styled, and so we also thought it would be a good idea to take a look at ourselves. We came to the conclusion that we needed a bit of a re-fresh as Modeca is growing into a strong player in the bridal business.
Over the past few years, Modeca has developed itself, and now it is key to mirror that in our reinvigorated branding. Going forward we want to make a statement as a strong Dutch bridal company.
Q. That sounds great, how will these changes present themselves to the bridal market?

Looking at the new Modeca logo itself, you won't see any huge changes. There was no reason to change our name as MODECA in capital letters is established and our customers know what they can expect from us.
However we have embedded our name in a new style with a warm splash of colour that shows our origin. Our name is now orange as it's the colour of The Netherlands and we say what it's all about, Dutch design. The bridal symbol that we have added should also push our recognition factor. It is important for us to show a positive spirit – we are going forward, we keep and stick to the very good and high-quality things we have, but we also embrace the future aspects of the industry because we love what we do, we simply love bridal.
Q. Fantastic to hear that you aren't afraid to move forward. What's this we hear about a new collection?
Our rebranded logo comes along with the new logo of the inaugural 2016 Papillon Collection by Modeca. This is our high-end and haute-couture line which is fine, delicate, light and elegant. The dresses shine beautifully in different lighting and the fabrics are super soft.
Q. So Modeca is launching two collections for the upcoming season: Modeca Collection and Modeca Papillon by Modeca. Why is that?
Over the past few years Modeca has continuously become stronger and the brand gets heavily recognised within the market. Therefore we decided to launch an additional line. The inaugural Papillon Collection by Modeca comprises dresses in the finest lace plus stretch lace with vintage undertones and contemporary sophistication for the modern bride. Our Modeca Collection embraces the classic Modeca styles together with contemporary and romantically delicate designs. And again, with both collections we can give our customers and partners exclusivity within their area which is a huge USP for shops.
Q. What is your strategy for the future?
Key for us is always to support our customers and customers-to-be. And that is what Modeca is continuing to do. We are offering fantastic bridal gowns for a very good price/performance ratio; so we want to offer our partners the opportunity to make a bride happy with a Modeca bridal dress whenever they can and we are there whenever we are needed. Our customer service is excellent as we are available personally and online with an exciting B2B programme, plus we offer and realise very quick deliveries.
Moreover Modeca will of course be exhibiting at The London Bridal Show this weekend (Stand E13)  and in Harrogate in September.
And if shops and customers are keen to present our Modeca dresses to their clients within their stores we can also help. Recently we have done very successful Trunk Shows where our partners and brides-to-be have been excited about our Modeca gowns. For us it is important to work for the success of our customers as we want to see them doing well.

You can still pre-register for The London Bridal Show by clicking here.