We caught up with True Bride to find out more about the brand and what the team have been up to since winning the Bridal Buyer Award for Best Bridesmaid Collection last year.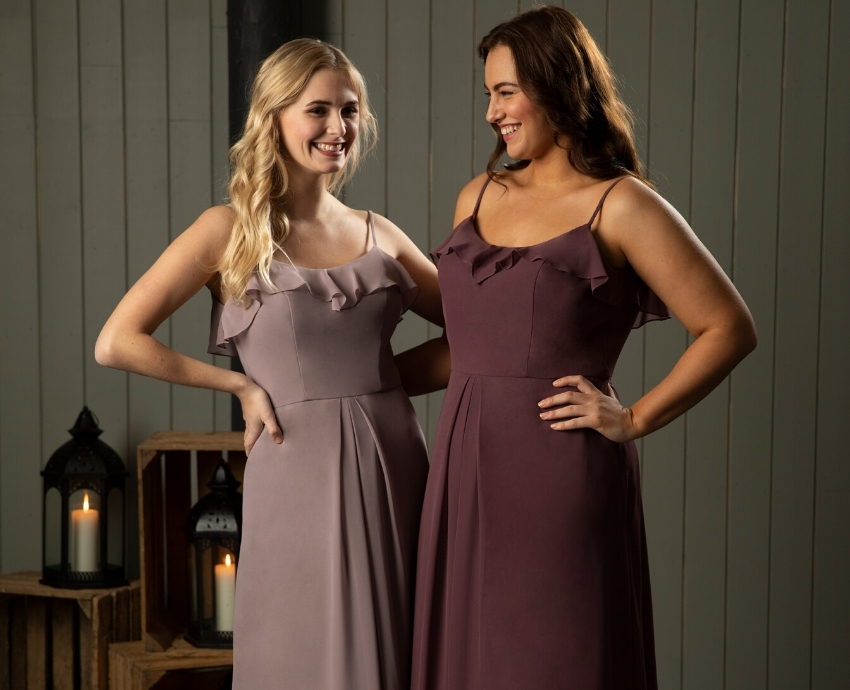 BB.com main image True Bride.jpg
Tell me about the history of the brand(s)?
Designer Nicki Flynn debuted her True Bride label at the Harrogate Bridal Show back in 2005 after setting out on her own following 15 years of creating collections and building business for others. True Bride arrived with a distinctive flair for creating original, stylish dresses that filled a gap in the bridesmaid market; the wide range of colours, designs and sizes captured the buyers' imaginations and became the cornerstone for the brand.
How many collections sit under the True Bride brand? Tell us a little about them
Today, we have four bridal and four bridesmaid collections.
Bridal
True Bride creates designs for every body. The True Bride spirit is encapsulated through intricate Gatsby inspired beadwork, old Hollywood glamour, modern silhouettes, and unique detailing, all complete with a fashion-forward twist, and available in sizes UK 6-36.
Nicki Flynn by True Bride is all about the decadent, glamorous feel, with designs that bring a little something extra.
True Curves creates the dresses that plus-size brides want, with a focus on luxury fit, and unparalleled style.
Brighton Belle is a selection of retro-inspired tea lengths, with nods to the glamour (and fun!) of the 40s and 50s.
Bridesmaids
Our bridesmaids ranges are designed to compliment our bridal gowns, with styles available in sizes UK 6-36, in over 80 colours.
True Bridesmaids is for the everyday bride with a stylish edge, and these designs are often understated in their elegance with a timeless appeal.
Luna by True Bride provides statement red carpet dresses that encapsulate the essence of old Hollywood glamour for styles that can be worn over again.
Our Essentials collection focuses on fresh, clean lines and flattering cuts with a modern twist. This collection is also available on a quicker delivery!
True Match is a fun selection of mix and match tops and skirts, for the bride who wants something different.
How has the brand evolved over the years?
Throughout the years we have seen to be proactive rather than reactive. Our Essentials bridesmaids collection was born when brides were tightening purse-strings, but not wanting to compromise on style or quality; Brighton Belle was as a response to the overwhelming reaction to a small selection of tea length dresses in our bridal collection – this is now an incredible stand-alone collection featuring retro-inspired designs with a modern twist. Alongside the creation of our luxury plus size bridal collection, True Curves, we're investing more into promoting our brand's dedication to body-inclusivity through more plus size imagery, and a dedicated plus size social media platform. As always, we are in a continuous cycle of communicating with our stockists to develop new colour palettes, designs & fabrics that their brides are asking for, whilst retaining our underlying commitment to constant improvement and enhanced customer service. We recognise that our stockists' success is the basis of our success. At the core of everything we have achieved over the years is the fact that we have asked, we have listened, and we have responded. We work with our stockists as a partnership to drive all our brands forward.
It's been almost a year since you won the Bridal Buyer Award for 'Bridesmaid Manufacturer of the Year' - What's the last year been like for your bridesmaid brand?
It's been an interesting year! The bridesmaids market is forever changing, and we're continuously adapting to what our stockists, and brides, are looking for. We've retained our underlying commitment to conscious pricing and quick delivery dates with our Essentials collection, and our True Bridesmaids & Luna by True Bride collections are focused on creating high-quality fashion forward designs for the stylish bride. We've also introduced some gorgeous new fabrics – a silky liquid satin and a luxurious velvet in two incredibly decadent colour palettes.
What has True Bride been up to during this unusual period?
Albeit with a smaller team, we've been keeping on as usual over at True Bride. We've been investing even more into social media, online, and print advertising; brand awareness is key for us, and we've been very conscious to keep driving this forward. Our designers have been busy creating our new SS21 collection, and we're planning new ways of showcasing these styles to our retailers. It's been important for us to keep the lines of communication open with our stockists, including weekly newsletters with delivery & production updates, and the all-important pics of our office pup George! Now more than ever, we're always at the end of the phone!
And finally, describe True Bride in three words
Contemporary. Timeless. Memorable.
You can see True Bride at the Harrogate Bridal Show from 4 - 6 October at the Yorkshire Event Centre. Register here for fast-track entry.