Getting to Know Gino Cerruti Ahead of London Bridal Fashion Week
We catch up with London-based fashion house, Gino Cerruti ahead of London Bridal Fashion Week 2020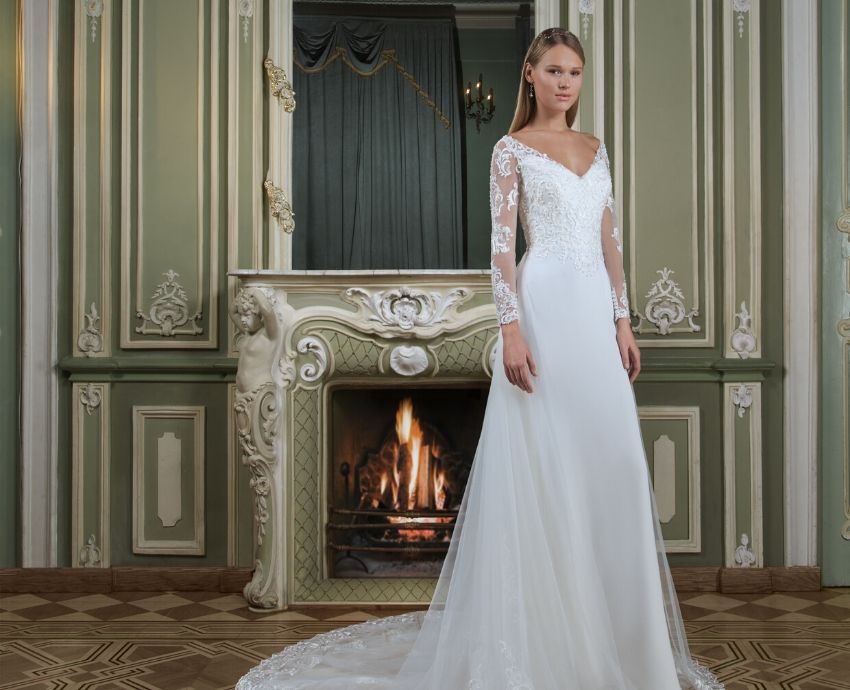 Can you give us a brief background of the brand?
Gino Cerruti first opened a modest showroom in November 1983 in Marylebone, London, specialising in made to measure evening and occasion wear under the creative talent of Pinky Johar. Today, Pinky's highly skilled team of young professionals have followed in her footsteps to create a modern and luxurious collection that is beautifully elegant and glamorous.
At Gino Cerruti, we are proud of the fact that seven years ago the company decided to create an online system for our retailers to access our live inventory of 20,000 dresses in stock in our warehouse in London.
What is the brand's signature style?
We don't have a signature style as we produce a wide variety of dresses, meaning we have something for everyone. From sleek, elegant simplicity to bold and bright styles that help you stand out, we do it all. We stand out because we've perfected the art of getting a perfect fit no matter the silhouette.
Describe a Gino Cerruti bride in three words?
Stylish, sophisticated and successful!
---
---
How has the brand evolved over the years?
Over the years, we have grown from Pinky personally selling dresses herself by visiting shops in London to stocking retailers all over the world. We've now got multiple labels, Gino Cerruti - our prom, eveningwear and bridesmaids' collections, Labella - our special occasion wear collection and Lenovia and Lenovia VIP - our bridal collections.
We have also developed our unique online system that allows our retailers to see a live inventory on our website so they can tell which dresses we have in stock at any moment, and if not they can see a date of when it will arrive.
What is the brand's secret to success?
Our success is no secret - we just focus on perfect fitting and high quality. We find that consistently producing dresses with these two things means that our retailers know they can trust us and that their customers are guaranteed to be happy with our dresses. We also have a team of young designers who are able to keep ahead of the trends to design beautiful modern styles.
Can you give us five interesting facts about the brand?
The average age of our design team is 24.
Our main office and design team is based in London.
We carry over 25,000 dresses from our new collection in stock.
Our retailers speak to our designers on a daily basis to advise on our designs.
We have an automated system that confirms and verifies the exclusivity of our retailers, so no two nearby shops in the exclusivity area can buy the same style.
If the brand could be remembered for one thing what would it be?
Innovation, innovation, innovation. We are not a dinosaur brand; we offer our retailers a personal and positive experience. We are also the only brand to be able to compete directly against internet sellers with our innovative technology. We can deliver within 24 hours or earlier not only to impress our retailers but more importantly their customers.
Can you tell us more about the latest collections?
The most recent collection we've launched is our new Labella collection - a special occasion wear collection suited for any special day. This is the first Labella collection we've launched in four years and we've come back bigger and better than ever.
We've taken the time to get the collection exactly right, with delicate colours and elegant silhouettes throughout. While special occasion wear is often targeted at Mother of the Brides and Mother of the Groom, our young design team ensures that our dresses can also be suited to younger women looking for an outfit for a wedding or to head to the races. When glamour meets elegance, something beautiful is made.
Can you talk about the brand's relationship with the UK bridal market?
We are very exclusive with which retailers are able to carry our bridal collection. We do not approve every retailer who requests to carry the collection as we always want to find the perfect fit for the brand. This pairs with our exclusivity that we offer our retailers - it helps us to create a close relationship with everyone who carries our collections.
How do you deal with new stockists?
We love to welcome new retailers to Gino Cerruti. All they have to do is register an account on our website, we then verify that they are a genuine retailer - we only sell to retailers who have physical stores and our dresses can only be sold online through our official retailer's websites - and then they're set to go!
Our design team are always available to speak on the phone for any questions new retailers may have and are always happy to help. We ask that new retailers take from our stock for their first order but then they're welcome to place orders of dresses in production and forward orders. After their first order, they will also be able to loan our samples for events in their shop.
Do you have a minimum order?
We ask that new retailers order a minimum of six dresses for their first purchase, but after that, there's no limit.
What's next for the brand?
We're planning to expand our production to other areas in the world including Europe. With Brexit around the corner, we have acted in moving our production back to the UK. We are also currently developing an app so our retailers have immediate and direct access to our live inventory system and order with just one click!
Gino Cerruti will be exhibiting at London Bridal Fashion Week on Stand F53 Make sure you register for the event here so you don't miss out.