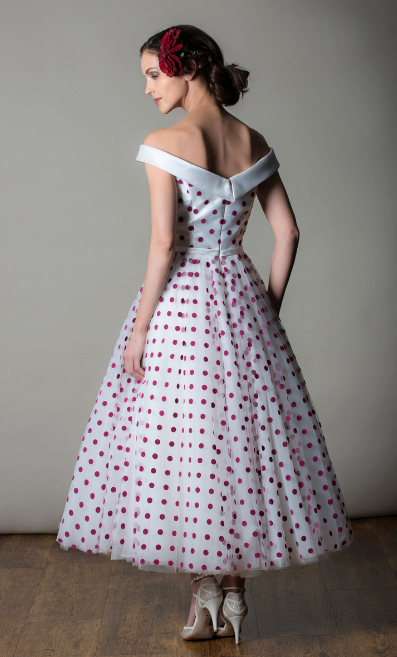 Rita Mae's polka dot short wedding dress
Ivory & Co
A structured bodice matched with a lace overlay gives this gown classic style. Ideal for brides thinking about a destination wedding in a sunny, European location.
Check out Ivory & Co.'s latest collection, Limelight, here.
Rita Mae
This gown from one of Alan Hannah's lines is the epitome of 50s cool. Red polka dots give it a fun finish and a vibrant pop of colour that brides will adore.
Special Day
The blush pink trend is not going anywhere. We've seen it in a huge variety of styles this season, and it gives this calf-skimming style an ultra-pretty finish.
Check out Special Day's stunning collections here:
Special Day's European Collection.
Special Day's Diamond Collection.
Special Day's Beautiful Bride Plus Collection.
Special Day's Claddagh Collection.
Alternatively, find Special Day on stand Q8 at the show.
Sweetheart from Justin Alexander
Slim and figure hugging, this pretty dress takes the trend for formfitting gowns to a different level. Spaghetti straps make it the perfect dress for an exotic beach wedding.
Take a look at Justin Alexander's Fall/Winter 2018 Collection here.
You can find Justin Alexander on stand M12 at the show.
Brighton Belle by True Bride
Shorter styles can still offer an elegant look. This gown has plenty of movement in the skirt, with an on trend high neckline, plenty of lace detailing and a cinched in waist.
Find out more about True Bride here.
The Harrogate Bridal Show isn't simply a place to keep up to date with current trends, but it's also the perfect networking opportunity. Discover the best networking spots at Harrogate here.