2020 Retailer Review - The positives
In this three part series, we interviewed 8 retailers from across the country to give their review of 2020. Part one of the review looks at the positives retailers were able to take from an unparalleled year.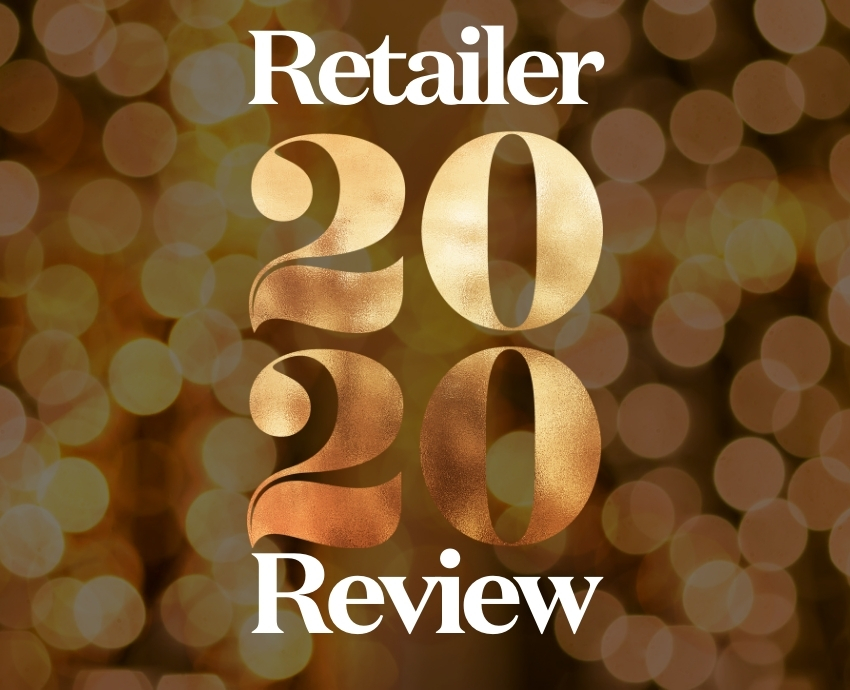 In a flash 2020 has disappeared and what a year it has been! With so many new challenges having been thrown at us we are sure that many will be glad to see the back of 2020. It has been an unprecedented year for everyone but now is the time to celebrate and congratulate bridal retailers for their continued efforts and reflect on the year gone by.
It's been a difficult year, but have there been any positives for your boutique?
Bromley Brides
It has been a mixed year for us, and of course unprecedented time for all businesses, but there have been many positives too. We launched The Wonder Room with David Emanuel in August of this year, which was a great success! It was a bit of a gamble to launch during a period of uncertainty, but it has paid off for the business and now we can offer private appointments in our beautifully themed bridal suite and the bride-to-be can celebrate her moment with a small entourage.
Our ultimate 2020 positive for us arrived in the form of an opportunity to expand, and we are so excited that this has led to a partnership with a successful hair stylist to open a beauty and hair salon aptly named Bella Rose – after our two daughters. Planning and building works are currently underway to transform the space next door, and we hope to open in January. All-in-all we are ending the year on a high and we are excited to see what 2021 will bring!
Carol's Bridal Boutique
This year has been a year of investments for us we have recently installed Bridal Live and made a lot of changes on our website too, which included brides being able to book their own online appointment. We have also redecorated and refurbished the entire boutique. It was a big task as we completely changed every aspect and filled the boutique with so many beautiful, girlie things. We have had a wonderful response and our brides are loving it, commenting on our stunning interior. The highlight has been introducing a LED ring/selfie light for brides to have the use of during appointments so additional family/friends can be zoomed into the appointment.
We have been lucky enough to have lots of positives to share, we were nominated for numerous awards this year and were delighted when Lauren our Boutique Manager won the Bridal Buyer Unsung Hero Award for her dedication to the business during lockdown. We also took part in a one-to-one online training session with Jo Stott Consultancy who gave fantastic advice and tips on coping and moving forward in the current climate. To top it off we are super excited to have launched a brand-new designer label into the boutique too. We are proud to say, that we are the exclusive stockists in Cumbria of the award-winning designer Suzanne Neville dresses!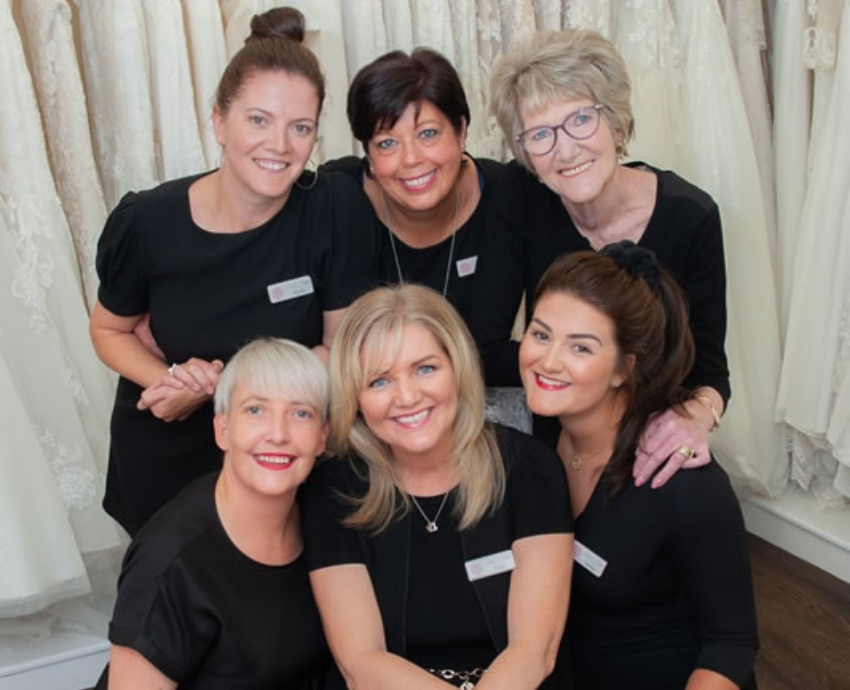 ---
---
Creatiques Bridal Boutique
We have used the time the shop was closed to undergo a major redecoration, new furniture, fittings and an additional fitting area was built. The new building housed our multi award winning instore bridal hairdresser "the HairdressSIR". Without the lockdowns, we wouldn't have had the time to create this area, so that is definitely a positive that we have taken from 2020.
We also created a new in-boutique housing our mother of the bride and groom collection. This has been something that we have been wanting to do for some time, as due to department stores closing in our area, we felt that Southsea needed a destination store for ladies' wear, millinery and accessories. We have worked hard as not only did we have this all happening, but we also somehow found time to launch our designer home fragrance brand Bustle and Bertie. We have for many years given our brides a gift, a candle or reed diffuser for purchasing their gown from Creatiques, this last year the lady that made them for us gave up the business so rob and I went on a fragrance course which has now resulted with the amazing Bustle & Bertie.
Our final positive from 2020 would be that we were the winners of The Bridal Buyer Awards – Best Customer Service category. We were absolutely thrilled about this, especially when we were nominated by it one of our brides, Sarah, who has now like many had to reschedule her wedding. To say we were shocked was an understatement, to read about what Sarah had written in the awards issue of the magazine was fabulous. Although, we did miss not being able to attend Harrogate this year and going to the awards, we would have loved to put our glad rags on and party!
Dotty Bridal
There certainly has been many positives this year for me and the team at Dotty Bridal. Firstly, we have just undergone a full rebrand and shop refurb which has seen us move to a more chic, classic look. We are due to launch our brand-new bridal experience room in the New Year which will host a plethora of extras for all our Dotty Brides.
We have also seen a huge increase in our social media following this year now reaching 12.1K followers on Instagram! This has been down to us being present online in the busiest time for social media (during the national lockdown). We have learnt so much about new innovative ways to reach our audience and off the back of this have launched our very own consultancy company – Dot Branding. We have helped 10 amazing businesses this year already and we can't wait to work with lots more next year. We have also won an award for Digital Innovation which was an absolute honour to be recognised for our dedication and hard work.
London Bride UK
2020 has had its challenges but it has also given us the time to reflect on the changes we needed to make going forward. We felt that we wanted to change how we offered our in-store experience so that we could make it even more special for those who visited us. We have had the chance to update our interior by creating a new waiting area and Instagram room for our brides-to-be, added new furniture and overall created a personal and welcoming environment.
Pretty White Dress
This year as I am sure like many, we've had to change the way we deliver bridal appointments. It has shown us that we have loved having more intimate appointments with our brides. With the new restrictions meaning brides can only bring one or two guests and no refreshments served, the brides have been so careful about who they choose to bring with them and the focus has solely been on them and their dress without other distractions. We also have made the most of having extra time during lockdown to really connect with our brides via social media, email, and private groups. It is something we really cherished from 2020 as we rarely have time when the boutique is at its busiest.
Wedding Belles of 4 Oaks
Yes 2020 is a year we won't all forget in a hurry! We have kept a positive spin throughout this difficult year and have ensured that we have been there for our brides throughout both lockdowns. We have been able to set up a dedicated online group for our brides so that they have somewhere that they can share their feelings, stories, and journeys. It's been very emotional and truly inspirational to see their support for each other. We have kept a very upbeat social media output throughout, and it has been so lovely to hear that many brides have chosen us for their dress shopping due to the support we have shown to our brides.
We have just won the TWIA Best Bridal Retailer for the West Midlands for the 3rd year running! This has been just a huge boost for our business and our team are just overwhelmed and super proud.
With the vaccine announcement we are feeling optimistic and excited for 2021… bring it on!
Shade Bridal
2020 hasn't turned out to be the year we were all expecting. I really thought that it was going to be the most fabulous year for all of our brides. We were all just getting into our stride for the wedding season, and then we were forced to close. It's very rare that I would have so much time on my hands and I took this opportunity to really push our social media presence and improve our SEO rankings. I spent more time looking at what was driving brides to our website and how I could increase our traffic. I gave our website an update and used some of the time to give the boutique a bit of a spruce up, touching up paint work and adding a few little touches here and there. I also able to re-evaluate how we were running our appointments and if there were ways to make the experience extra special.
I am so pleased to announce that the most amazing thing happened in the last week of being closed, we won Best Bridal Retailer for the East Midlands in The Wedding Industry Awards! It's still not sunken in yet. What an amazing achievement in the toughest year for weddings. It has given me the confidence that if I remain positive and productive, I can get through anything.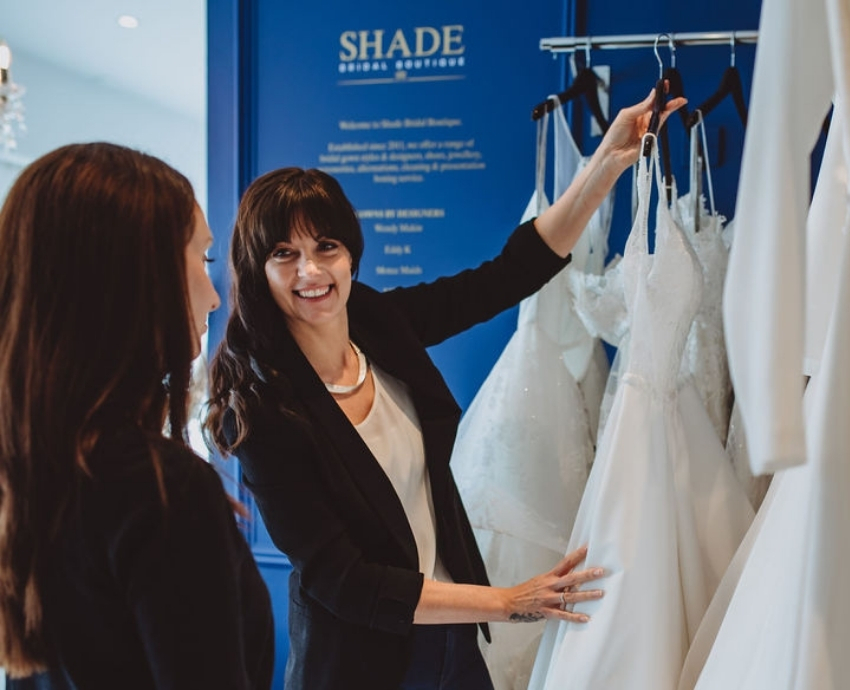 Click here to read part two of this article series where the retailers reflect on their learnt wisdom from 2020.