My Bridal Story: Elaine Rawlings Bridal Boutique
This year we will be putting a spotlight on some incredible boutiques from across the globe. Giving you an insight into their business, reasons they got into the industry and how they celebrate that special moment with their brides.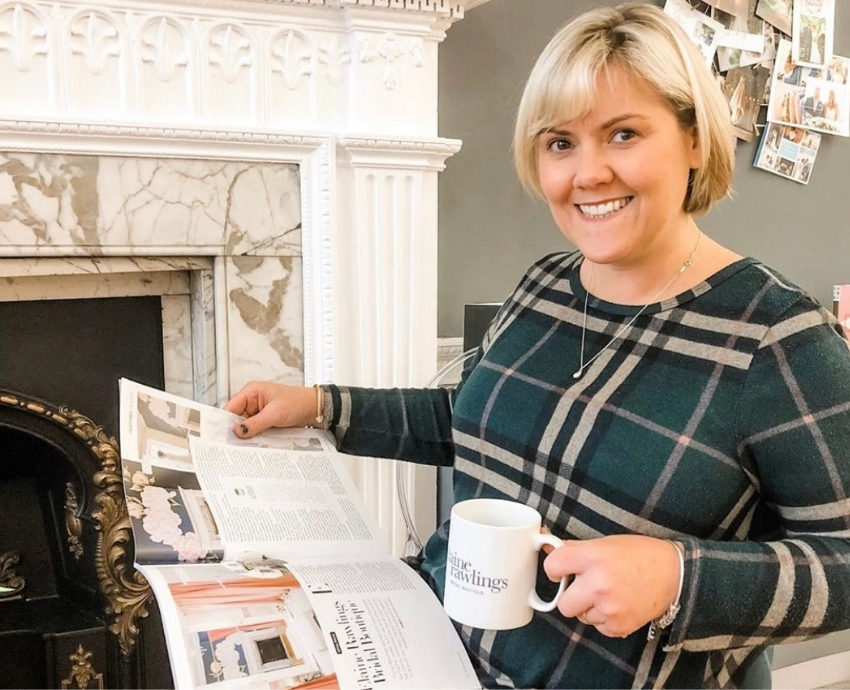 Name of store: Elaine Rawlings Bridal Boutique
Store Owner: Elaine Rawlings
Location: Truro Cornwall
Years trading: 11
Brands stocked: Justin Alexander/Sincerity Bridal/Lillian West
Av price point: £1300
Number of staff: 1 (Me)
What made you get into the bridal industry?
I worked for a local bridal magazine for many years so I already had a love for weddings. When the opportunity came up to buy an established bridal shop in the heart of Cornwall's main city, Truro, I went for it.
How would you describe your bridal shop?
Located on the second floor of a charming and grand Georgian Town house, it's a welcoming, open plan room that's been beautifully restored and tastefully decorated. Inside has a large hand-painted floral mural by my talented friend Emily Hankins Cakes, a striking original fireplace adds to the period features and my wedding dress collection is perfectly framed by two large ornate pillars that sit at either end of the rail, adding a touch of grandeur and romance. To reach the boutique brides and their guests have to climb a sweeping spiral staircase that opens onto a large landing - perfect for girls who want to swish and twirl in the dresses. The architecture and intricate interior of the building adds to the experience and even before the door is pushed open to the boutique, girls are wowed by the Georgian architecture.
I find that the smaller more intimate space helps to make a bride feel at home without feeling overwhelmed by multiple changing rooms, or other bridal parties being present. It's also made dealing with Covid-19 restrictions much easier as I haven't had to change or move anything around.
Who would you say is your ideal bride?
I would like to think I'm open to every bride of all ages, shapes and sizes! I stock designers: Justin Alexander, Sincerity Bridal and Lillian West which between them offer styles from classic to fairytale princess and romantic elegance to laid back boho.
How do you celebrate a bride finding her dress in your boutique?
This is always the perfect moment and one of the reasons why I love my job so much! Before coronavirus restrictions, I would share hugs with the bridal party, pop fizz and have my camera at the ready to take the all-important 'I Said Yes To The Dress' photograph. But like everyone, I've had to adapt and think of new ways to make it special! I now give each bride a lovely branded goodie bag that contains a bottle of fizz, some extra special branded Elaine Rawlings gifts and a guide that explains the next steps of their bridal journey. I also placed a beautiful neon 'Happily Ever After' sign into the fireplace so whilst brides have not been able to have guests with them, they are still able to have a lovely photograph to remember the moment they found their dream dress.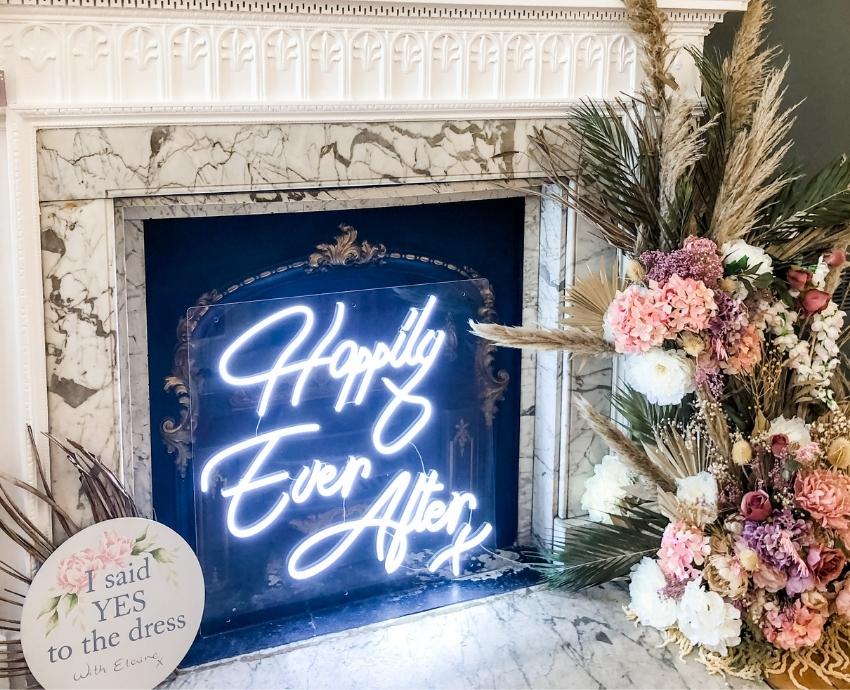 ---
---
What's the best part of your job?
No two days are the same and the role is so varied. As for most bridal shop owners you wear a lot of hats. We are not just bridal stylists we have to be account managers, marketing experts, fashion aware and always wear a smile. I love when you pull out a wildcard gown and say to your bride 'just try it on' and it ends up being 'the one' - it always gives me such satisfaction and reassures me I am in the right job. When I bought the business 11 years ago, I asked the previous owner what day to day in bridal would be like, she replied it's not 9 to 5, 'it's a lifestyle' and she was right.
What's your favourite industry memory?
This is easy! My first trip to Harrogate Bridal Show in 2010. The rows upon rows of designers, Champagne bars, catwalk shows in the Great Hall, it was magical. As I sat nervously awaiting my first fashion show, a bubbly Geordie came and sat next to me. We exchanged a smile, started chatting and discovered we were both about to open our first bridal boutique within 6 months of each other! We said "let's keep in touch" and today we are the best of friends despite being at opposite ends of the country. This was and is the wonderful Jo Stott, who having run her successful YAP Bridal Boutique for 10 years, now has her own bridal consultancy business Jo Stott Consultancy. The bridal world can be lonely sometimes and we have laughed and cried and supported each other throughout our journeys, especially during the times we now find ourselves in. We visit each other every year either me travelling to Newcastle or Jo coming to Cornwall, we talk most days and I wouldn't be without her!
Can you tell us three interesting facts about your boutique?
As I mentioned the boutique is based in a Georgian Townhouse called Princes House in Truro, Cornwall. It was one of the first townhouses built in Truro in 1739 and was the city home of William Lemon, a member of parliament. His family were renowned in Cornwall and their influence can be found dotted throughout the city with many buildings and streets named after him and his family. The house is now home to many creative businesses from art to interior design. The grandeur of the building always makes me feel like I'm staring in an episode of Downtown Abbey especially when I turn the key in the big red front door.
The last year has made me think of ways to 'pivot' the business to keep a revenue stream coming in even when closed so I started an Elaine Rawlings Bridal Boutique Gift Shop. Just before Christmas my stock started to arrive and I sold jumpers, t-shirts and hand-painted purses made in Cornwall using Etsy. The sales were really good so I am now adding WooCommerce to my website, hoping that this will continue even once restrictions are lifted.
I appeared on Channel 4s popular TV series called 'Don't Tell The Bride' in 2011. I hadn't been in the wedding industry long and it was so much fun to be a part of and help the groom find a dress!
If you had to give one piece of advice to another store owner, what would it be?
I think the pressure to keep up with everything now is relentless and sometimes you can feel overwhelmed to keep being 'the best'. But, it's important to switch off in the evenings, give yourself a cut off when you won't answer emails or social media enquiries. I think it's also invaluable to talk to other shops whether that be through industry friendships you have formed like I have, or through forums. I feel privileged to be in the wedding industry and help brides find their dream dress. Despite having had the toughest 12 months, I believe the industry will bounce back like never before and I am always grateful to be surrounded by so many supportive businesses in this incredible industry.