My Bridal Story: Victoria Robson Bridal
For June's My Bridal Story, we interview Victoria Robson Bridal in North Yorkshire, discussing their favourite industry memory and how they celebrate brides making a final dress decision.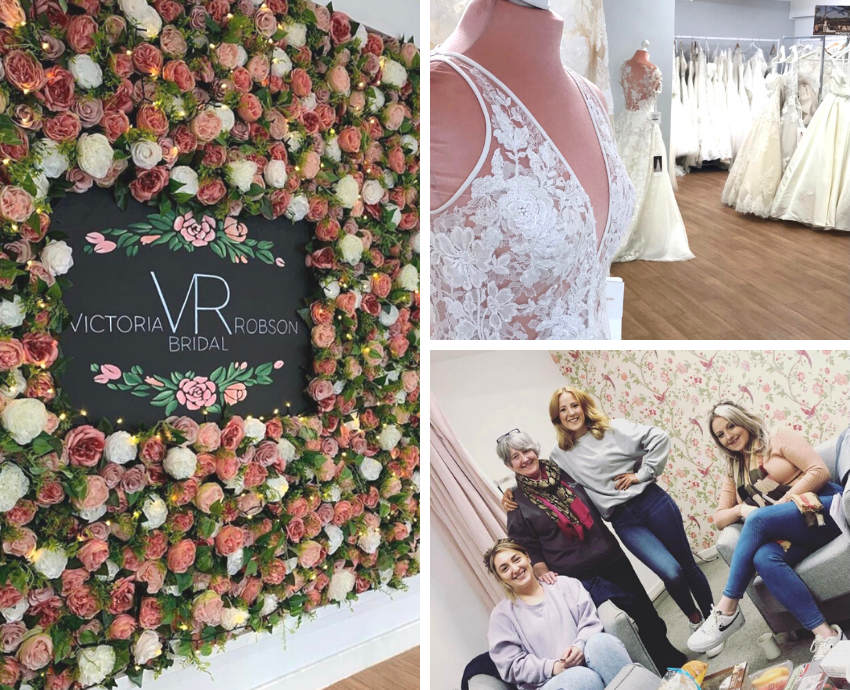 Name of store: Victoria Robson Bridal
Store owner: Victoria Robson
Location: Northallerton, North Yorkshire
Number of years trading: 6
Brands stocked: Atelier Pronovias, Pronovias, Maggie Sottero, Sottero & Midgley, Rebecca Ingram and Elysee Bridal Design
Average price point: £1750
Number of staff: 4
Can you give us a little introduction about your store? How would you describe your boutique, and what makes it stand out?
I opened my boutique six years ago, after the passing of my father. I had just finished university and I needed something to focus on, and so the incredible opportunity to open a bridal boutique was given to me by a close friend. I walked into the boutique and instantly knew it was meant for me. A complete rebrand, name change and full shop refurbish, Victoria Robson Bridal was born. The boutique is fresh and comfortable, with a real personal, family feel to it. We are based in North Yorkshire in the little market town of Northallerton, spread over two premises and are set back from the main high street in a private boutique with three large fitting rooms. What makes us stand out is the privacy and intimacy you have when with us. Brides have their own private bridal suite which is exclusively theirs to enjoy trying on gowns with their V.I .P. guests.
What made you get into the bridal industry?
Before opening the boutique I was working in events as a wedding coordinator and an events planner for a national charity and adored weddings as a whole, so when the opportunity arose to open the boutique, I felt it was a perfect fit.
---
---
Who would you say is your ideal bridal market?
I like to think that as a store we are open to all brides, shapes, sizes and situations. Our designers seem to cover such a huge range of styles and features that we always have something that the bride can fall in love with.
How do you celebrate a bride finding her dress in your boutique? Do you do anything special on social media, and how have you adjusted these celebrations with the pandemic?
My favourite moments in the boutique are when a bride feels so beautiful and perfect when they have found their dream dress. It is one the of the reasons why I love my job so much. Every person deserves to feel so beautiful that their happiness shines out of them! To celebrate their decision, we top up the fizz to toast the beautiful bride and take the 'I SAID YES' pic! We give the bride a goodie bag with some special VR treats and a guide that explains what happens now and their journey with us. We let the girls post the pics on social media and tag us in them. We are excited to be back doing the big celebrations with our brides but during the pandemic we still celebrated with the brides and their virtual guests.
What is the best part of your job?
I feel like our jobs are so varied: especially with social media and marketing, we have so many more roles than just owners/stylists. The best part of my job has to be when a bride picks a gown that we pull as a wild card - something they never would have picked up off the rails but trust us to try it on and they fall in love! Seeing women feeling beautiful and confident makes it worth every long day and every late night.
What's your favourite industry memory?
It has to be on a buying trip to Barcelona when I first opened: I was only 23, and flew out on my own to pick the gowns from the Pronovias collection. I didn't know any other person there and I hadn't even met my rep at this point. I was so nervous, but when we got to the fashion show, I was sat next to an incredible owner Kelly from The Wedding Company in Plympton, and her mum, and they saved me. We went back to the hotel for dinner and we chatted for so long and I met Shannon from Dotty Bridal and I feel like that was a huge turning point for me. Knowing others in the industry that were happy to help and support me, it was so lovely. We still support each other now and I have made so many lovely friends in this industry that it makes it feel like we are all in this together. Especially after the year we have all had!
Can you tell us three interesting facts about your boutique?
1. We are family-run, opened in memory of my Dad. My incredible mum also works with me - even brides call her 'Mum'!
2. One of my very first brides name was Victoria and she was marrying a gentleman with the surname Robson so she was literally becoming a Victoria Robson bride!
3. Every year we gift a wedding dress to a deserving bride.
If you had to give one piece of advice to another store owner, what would it be?
Try to not compare yourself to others. Every store has their incredible strengths and unique selling points. I know it is so difficult with social media and being able to see what everyone else is doing, but you must focus on your grass and making it as green as it can be!