Open for Business: Chic and Elegant in Swansea
Linda Hurford opened her bridal boutique, Chic and Elegant, in Swansea back in 2002. However, more recently she made the decision to relocate her business to a more central area. We caught up with her to find out more.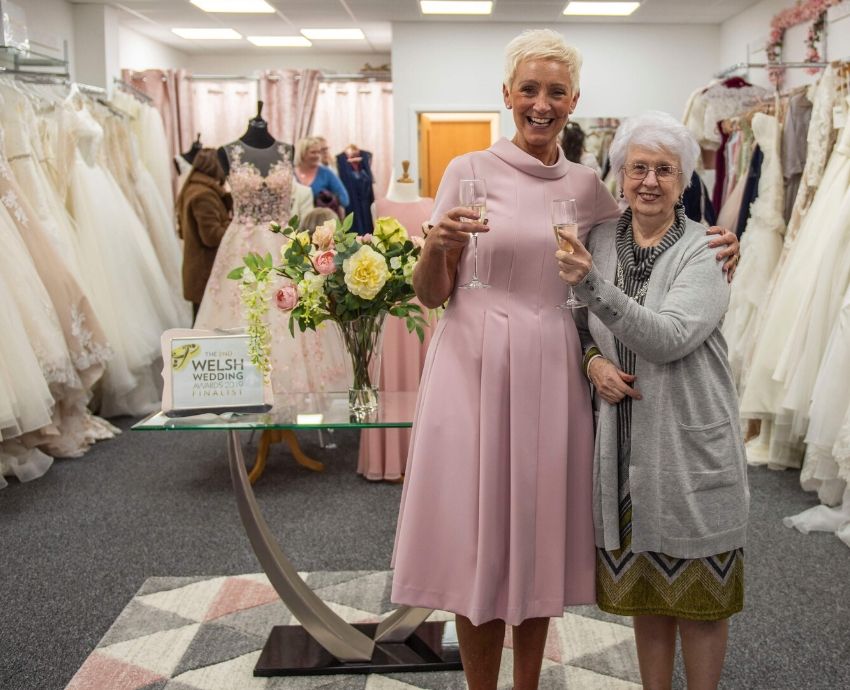 What inspired you to open your first bridal boutique?
I have always had a passion for the bridal sector and initially I saw an opportunity to open a boutique selling accessories. This was very enjoyable for me and soon became a success. Clients would often ask if I sold wedding dresses as they had enjoyed the personal service they received. It was this encouragement and my previous experience that led me to stock six gowns initially and from that, the business just started growing.
Did you have any experience in the industry prior to opening your boutique?
Yes, I had enjoyed nine years in bridal working for some well-known businesses in my area.
What are the most enjoyable and most challenging parts of opening a boutique?
The most enjoyable part of opening a bridal boutique is developing relationships with brides and their families and being part of such a memorable process. I find great satisfaction in ensuring brides find the perfect gown for themselves and their bridesmaids, turning everything they've imagined into reality, all whilst lending my experience to make it as stress-free as possible.
The truly magical part, however, is attending to them on their actual wedding day by offering our unique 'final touch' service where I can deliver the gowns personally and dress them on the day. Being part of that is such a great reward!
As with all businesses, there are some challenges to overcome, the largest of which was initially building the stock to what it is today. There is a large financial outlay involved so I've really had to trust my instincts and keep up to date with change.
You have recently moved location. Can you tell me more about this?
We have been happily trading on Mansel Street for over 20 years and it has been a pleasure to work alongside many other independent companies there. It has served us well, but the regeneration of 'The Kingsway' seemed like the perfect opportunity to move into a larger and more modern space.
---
---
How do you think the move will affect your business?
It is undoubtedly going to have a positive impact on Chic and Elegant. It is a very exciting time of development in Swansea and we very much wanted to be a part of that. We are delighted with our new location and can't wait to see what the future holds.
How did you decide on the new location?
When we saw it advertised, the opportunity to design a brand-new space just fitted perfectly with where we wanted to take the business. It is in a fantastic central location and will likely catch the attention of potential customers being in the heart of the city.
What is the new boutique like?
We are very proud of the new boutique and hopefully, our numerous years in the industry has helped develop an understanding of our customer's needs. We want brides to feel welcomed into a spacious and light modern boutique that makes them feel comfortable. It is also important however that we can maintain their privacy and are able to offer an intimate service, especially for fittings.
How did you tell your customers about the relocation?
We pride ourselves in our communication with our customers both past and present, so we made sure that everyone concerned was well informed, by telephone, in person and by post. The relocation coincided with our 20th anniversary, so we utilised the opportunity to invite customers to a launch event to help us celebrate. It was a fantastic day and we were even joined by brides I had assisted when I first joined the industry 28 years ago.
What sort of marketing have you done for your business over the years?
We are often recommended to others by our customers and are always delighted by this. It is wonderful to hear what a difference our service has made to people and we have many testimonials left on our website and social media pages. In addition, we advertise in bridal publications and attend bridal shows and events regularly. This type of marketing is usually how we generate appointments also.
What designers do you stock?
We are very fortunate to stock Demetrios, Cosmobella, Hilary Morgan, Bianco Evento and Martin Thornburg. Our bridesmaid collections include Lou Lou and True Bride. We also stock a wide range of accessories from Richards Designs and Twilight Designs.
Where do you see your business in 5 years?
The relocation and expansion of Chic and Elegant has been a wonderful start to the decade and over the next 5 years, we intend to build on our great reputation and continue to have our hard work and expertise recognised in industry awards. However, above all else, we will thrive to offer the best service and experience for our customers.
What advice would you give to anyone thinking of opening a boutique or looking to relocate?
Research is key! Alongside this, try to move forward with as much industry experience as possible as it is a large financial commitment when the business is in its infancy. The ability to communicate with people at all levels is also extremely important and being totally honest and committed to delivering on service is crucial.
If you found this interesting, take a look at Jane Watson's advice on setting up shop.