White Gallery Spotlight: Savannah Miller Bridal
An exclusive interview with Savannah Miller Bridal ahead of White Gallery 2020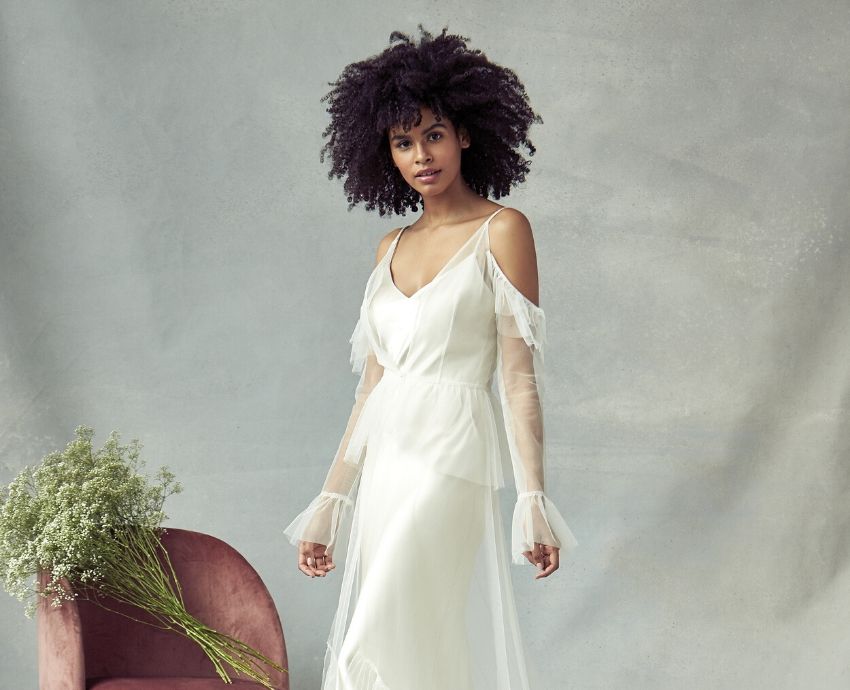 Can you give us a brief background of the brand?
Savannah was approached to collaborate on a capsule bridal collection by stone fox brides Molly Guy in 2014. Guy had seen photographs of Savannah's bohemian country wedding in a magazine and had reached out feeling their brand aesthetics were completely aligned. The collaboration was such a success that Savanah decided to launch her own brand, Savannah Miller Bridal in 2016.
What are the brand's secrets to success?
We use quality fabrication sourced from the best Italian mills. Our fabrics stand out amongst our competitors and we have added construction to our styles which allows the crepe gowns to fit various body types.
In addition to this, our gowns also look effortless and feel comfortable which is what brides are looking for at the end of the day. Finally, our designs are minimal and modern yet romantic and feminine and are all an affordable luxury.
What are the brands most popular designs?
Two of our most popular designs are 'Chloe' and 'Alma'. Chloe is a simple, clean, sleek slip dress with beautiful fabric and unique detailing. Whereas Alma is elegant, modern and feminine. It has Chantilly lace details and Savannah's signature long back sash.
---
---
Can you tell us about the new collection?
The new collection builds on our biased cut, effortless silhouettes and includes a combination of multiple different textures and embellishments. We have a variety of different hem lengths and gowns that offer support and structure whilst maintaining the elegance and simplicity that has become synonymous with the brand.
The collection was inspired by the iconic wardrobe of 30's Hollywood pin-up, Carole Lombard. Savannah was intoxicated by the way she carried simplicity with such great elegance and feels she embodies the essence of the brand's design aesthetic.
Can you talk us through the design process?
We gather inspirational imagery, visit exhibitions and fashion archives and surround ourselves with these resources. We then design the collection the old-fashioned way, with paper and pencils, building on silhouettes and shapes that we know work for us as a business and at the same time injecting enough newness to excite our brides. My favourite element of the process is designing the embellishment and embroidery ideas. It is those little touches that make our collection unique and give it its own identity.
Once the collection is designed, we submit it to our sample rooms who create a muslin version of the gown for us to fit. We then see our gowns on the model and make the necessary adjustments to the styling and give fit comments to our technical team. Following that, we finalise the finished garments via email and review the collection in New York when everything has been made correctly ahead of our photoshoot.
What's next for the brand?
We will continue to develop our bridal wear offer to include a range of garments that can support all of the other events around the wedding itself such as the bridal shower or rehearsal dinner. We will be exhibiting at White Gallery in March and we can't wait to see all of our UK retailers there. We love White Gallery and have so much success there!
Register for White Gallery here to be among the first to see the latest bridal fashion trends.