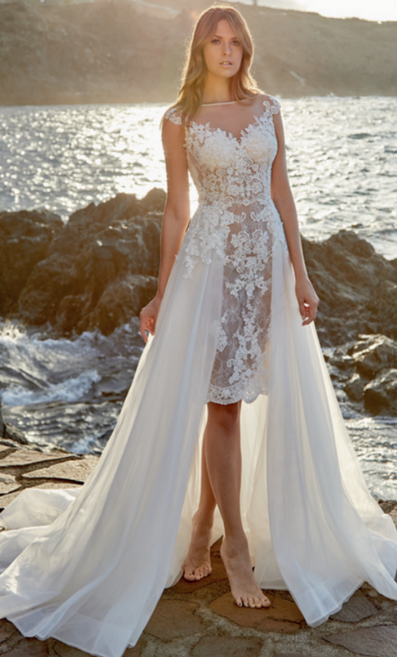 Diane Legrand is confirmed for London Bridal Week
Diane Legrand will be taking their luxurious but affordable new bridal collection along to London Bridal Week this year (25th-27th March). The beautiful collection includes a large selection of pieces, from gowns with stunning detailed lace to those covered with gorgeous sequinned embellishments. Styles are available in a variety of colours, to enable buyers to choose from traditional shades, such as white and ivory, or opt for the same pieces in blue, pink, gold or silver.
All gowns featured in this collection are ideal for a summer wedding. A personal favourite of Bridal Buyer's is an elegant lace gown that sits on the knee at the front but includes an unexpected train element that extends at the back. The gown includes a sheer back with button detail and is available in ivory, ivory/ nude, and white.
Diane Legrand is an established brand with ten years of experience within the bridal industry, and they boast incredibly positive feedback from customers. Whilst they are based in Germany, Diane Legrand delivers to 46 countries, and will be visiting London Bridal Week in one month's time to showcase their extensive range.
For top tips on how to get the most out of bridal trade shows, click here.