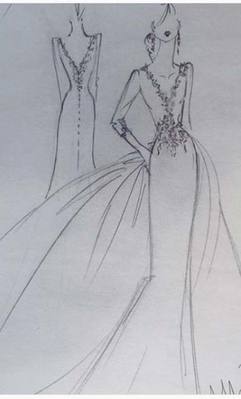 Stephanie Allin's prediction for Meghan Markle
We all can't wait to see what Meghan Markle chooses to wear on her wedding day – will she give a nod to her newly adopted homeland and go for a British designer, or will she stay true to her roots and pick an American brand? She could even opt for a Canadian designer as that's the place she's called home in recent years.
UK designer Stephanie Allin is no stranger to having her creations in the limelight – her gowns have graced magazine covers and been chosen by celebrities around the world, so we were super excited to see what she thought the American actress should pick.
A royal bride has to follow certain procedures and protocols and Meghan has even more pressure following the media scrutiny of both Kate and Pippa's wedding dress choices.
South Wales-based designer Stephanie has sketched out a design she feels would be perfect for Meghan to wear for her spring wedding to Prince Harry.
When asked about the design, this is what she had to say: "In some ways, you can imagine her wearing a Victoria Beckham-like dress – Meghan would suit a dress with more architectural styling than a boho dress.
"I think we may be in for a surprise with Meghan's gown, as potentially she could go for a Canadian designer, but I think she will want to go for someone who is not a big name.
"The actress has a slender figure and this means she can get away with wearing something figure-hugging. I would not be surprised if she went for a lace dress because she tends to wear a lot of luxury fabrics.
"I am envisaging a beautiful silk crepe gown and something with a lot of movement and modern sensibilities."
What style of wedding dress do you think Meghan Markle will choose? Comment below with your thoughts!
Don't forget you can see Stephanie Allin at White Gallery 2018 - make sure you register for White Gallery here so you don't miss out!