White Gallery Spotlight: Paloma Blanca
We catch up with Canadian bridal brand Paloma Blanca ahead of their appearance at White Gallery in March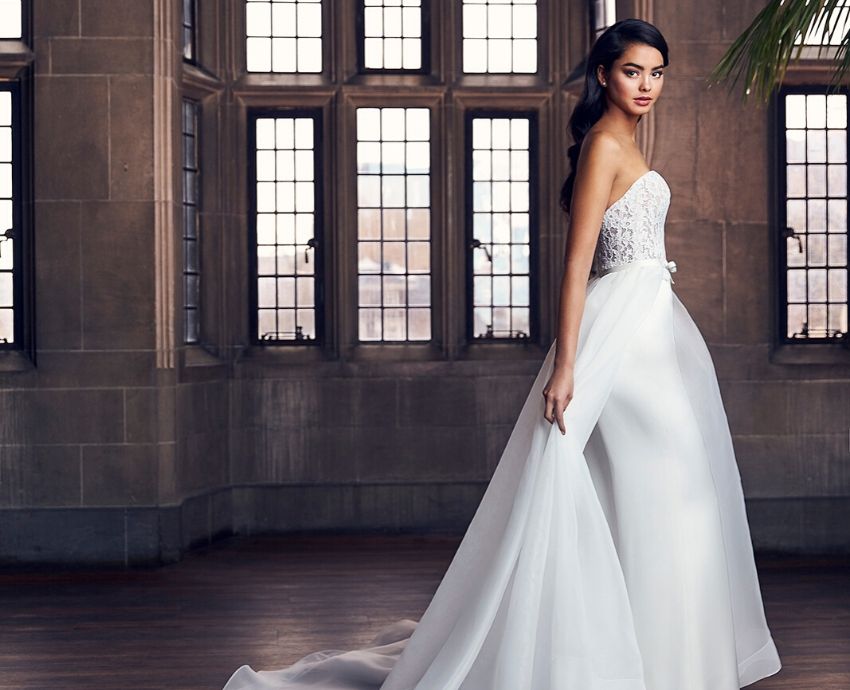 Can you give us a brief background to the brand?
Paloma Blanca is a family business. We currently have three Bernstein's working in the factory today - Marty, Sydney and Brandon. Marty and Sydney are brothers and also business partners at Paloma Blanca. Marty is the older of the two and he manages the sales and the design team. Sydney oversees all operations and accounting in the business. Brandon, who is also Marty's son, works in marketing and is also involved in all things digital related.
In addition to this, we currently have one amazing in-house designer (Elsa) and are now looking to bring another one onto our team to help out with the diversity in our styling. Overall, we have just over 50 employees that are a part of our Paloma Blanca family.
What is the company's unique selling point?
All of our dresses are 100% Canadian made and we take great pride in that. Producing dresses in our own facilities gives us the ability to maintain our high-quality standards and carefully check each dress before being shipped out to our brides. In special circumstances, we can also make changes to a dress when it has already put into production to give our shops and brides peace of mind. Being a family business, we care about every single dress and give each order the time and attention it deserves.
---
---
Can you tell us more about the latest collections?
We are always looking to embrace the latest fashion trends while staying true to what makes our dresses so special. One of our favourite trends emerging this year is Corsets! Bustier-style designs and dresses where you can see the elements of corsetry are becoming increasingly popular among brides. We typically aim to release 15 dresses per collection every season. We believe less is more and we always strive to make every style a best seller.
We understand that using high-quality fabrics can make all the difference in the final product. Most of our fabrics are sourced from France and Japan, but the beads we use on our dresses and accessories are flown in from India.
What is your relationship like with the UK bridal market?
We currently have 10 Paloma stockists and 16 Mikaella stockist and we are always looking to add more so that the gowns are available throughout the county.
We do offer exclusivity and our minimums are very fair allowing for two collections a year. We also offer a loan service and trunk shows and I keep a full set of samples in the UK each season. We produce gowns from size 4 up to 22 however, our gowns tend to repeat best in sizes 10–12. As we produce in our own factory, we can offer customer changes and rush orders in less than six weeks.
What are the company's views on social media and the best way to use it?
We believe social media has become a key component in many brides' decision-making process and it shows no signs of slowing down anytime soon. To truly utilize social media, one must truly understand their product, their audience and use it as a vehicle to tell their story.
It's also important to note that things can change quickly in a digital landscape and one must be fully aware of current trends to ensure they are not left behind. Make sure to check out @palomablancabridal and @mikaellabridal on Instagram to see the latest from our collections!
Do you concentrate on bridal dresses only or include accessories, and have you, or do you plan to, expand into bridesmaids, occasion wear or anything else?
Paloma Blanca originally started out producing bridesmaids and mother of the bride gowns alongside our wedding dresses in the early stages of our business. We found that in order to be the best at what we do we needed to focus our attention in one area to truly excel. It's possible that we may one decide to return to our old ways as the company grows, but for right now we can be very happy with centring our attention around wedding dresses. We do however produce veils, hairbands and belts for brides that can be viewed on our website.