My Bridal Story: Volle's Bridal & Boutique
This month's My Bridal Story spotlight falls on Volle's Bridal & Boutique based in Chicago, USA. The store has been trading for an impressive 50 years. We interviewed store owner Susanne to find out how she continues to make Volle's a success.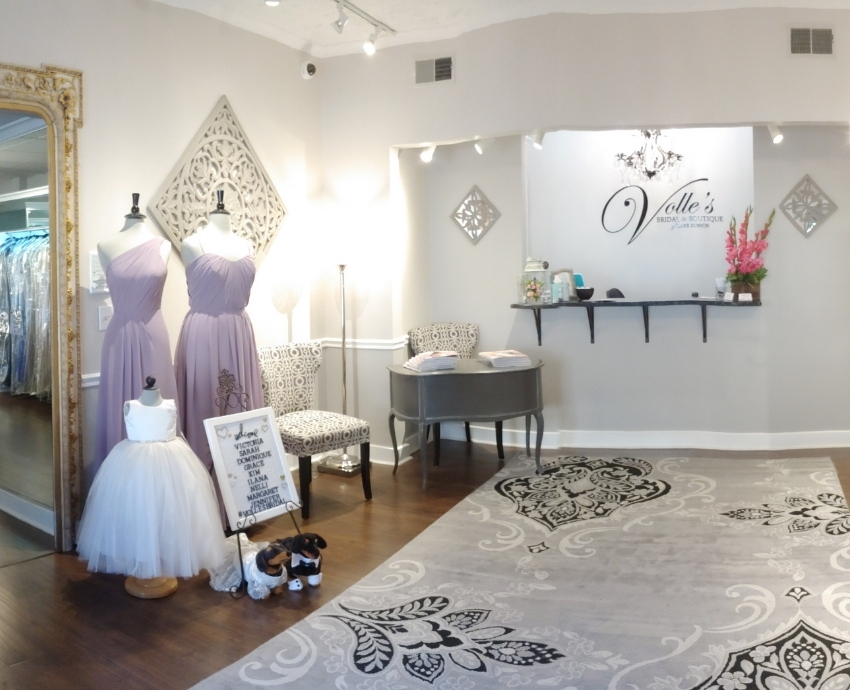 Name of store: Volle's Bridal & Boutique
Store owner name: Susanne
Location: Chicago, IL
Number of years trading: 50 years
Brands stocked: Maggie Sottero, Sottero & Midgley, Martina Liana, Stella York, Mikaella, Paloma Blanca, Rish, Renee Grace, Victoria Sdoukos Couture, Barbara Kavchok, BECCAR, Pronovias, Matthew Christopher, Van Der Velde, All Who Wander
Average price point: $2,000 USD
Number of staff: 20
What made you want to work in the bridal industry?
I have always loved fashion since I was a little girl. I would watch fashion icon Elsa Klensch from CNN every Saturday morning with wide eyes, extreme focus, and take in her every word. When the opportunity struck to take over a bridal salon, I jumped at the chance! I love working in the bridal industry, we get to provide a service where women can feel like a fashion icon in preparation of her very special day, when all eyes will be on her.
How would you describe your shop?
Our shop is approachable, and we pride ourselves on our high-end customer service ensuring every bride is made to feel glam and special in store. We are the only full-service bridal salon in the Chicago area, stocking wedding dresses, mother of the bride/groom gowns, as well as full bridal party attire, and men's formalwear. Located in downtown Lake Zurich, IL and we are proud to say that we have consistently been ranked as the #1 Bridal Boutique in the Midwest. Volle's Bridal & Boutique offers a unique perspective on wedding dress shopping you can only gain from 50 years of serving brides.
---
---
Who would you say is your ideal bride?
Every bride is our ideal bride! We make sure that our staff and store are inviting to all and that brides feel comfortable when in our care. We offer a diverse selection of wedding dresses in size 10-26 in so many different styles from boho to princess to clean and simple. We are an inclusive store, ready to make as many dreams come true as possible. We treat our brides as family!
How do you celebrate a bride finding her dress in your boutique?
We cheer for them of course! We love to celebrate our brides. After they have made their selection, we feature them on our Instagram page with the all important "I said yes" sign looking amazing in their chosen dress. When brides leave the store, we give them a gift bag with some goodies so they can remember their special experience at Volle's.
What's the best part of your job?
Making people happy and relaxed. Now-a-days it is becoming rare to have an "old fashioned" shopping experience with an expert. We feel it is so important while shopping for a bridal gown that we can offer the expertise through our combined experience as a team and love giving that to each of our customers. Our customers have told us that they are relieved that they were able to find our shop as they are not only getting a beautiful dress, but they are also getting our expertise.
What's your favourite industry memory?
Selling my first wedding dress!
Can you tell us three interesting facts about your boutique:
1. We have been in operation for 5 decades
2. We work one on one with Victoria Sdoukos, a Chicago wedding dress designer who makes custom made dresses in the U.S.A
3. We love to give back and excitedly participate in Brides Across America. This is an organization that gives wedding dresses free of charge to our military and first-responders. We get the chance to work with each bride who dedicates their time to our safety and country and really show our appreciation through our service at Volle's.
If you had to give one piece of advice to another store owner, what would it be?
Relish in making people happy at the happiest time of their life but also remember it is a business ad efficiency matter.