What are the key features of the new interior?
We spent a lot of time thinking about the entire experience for our brides and we wanted to create somewhere really special for this incredibly important moment. A key feature for us was a beautiful seating area where we can spend time getting to know the bride and make her feel comfortable. The scalloped dusky pink sofa and chairs are just perfect and feel both luxurious and welcoming.
Our brides are savvy and connected so I really wanted to create an area where they could take photographs of themselves and their guests on their special shopping day so we installed a fabulous Instagram wall. It's pink and girly, glamorous and fun with pampas grass and palms. We've already used it loads and we're not even open!
What kind of space have you created?
Stepping into Dress Dreams is stepping out of the ordinary, it feels super exciting and glamorous. It has been designed to feel luxe and chic, but at the same time it's playful and welcoming. It's modern and aspirational.
Is there anything in your interior that makes your boutique stand out?
The colour palette and our brand iD are very striking so this is the first thing you notice when you walk in. For me, it's about the little details, from our breath-taking floral displays, feature pendant lights, to unique hooks in the dressing room. We have even included little touches in the bathroom, everything has been carefully thought about to enhance our brides experience with us.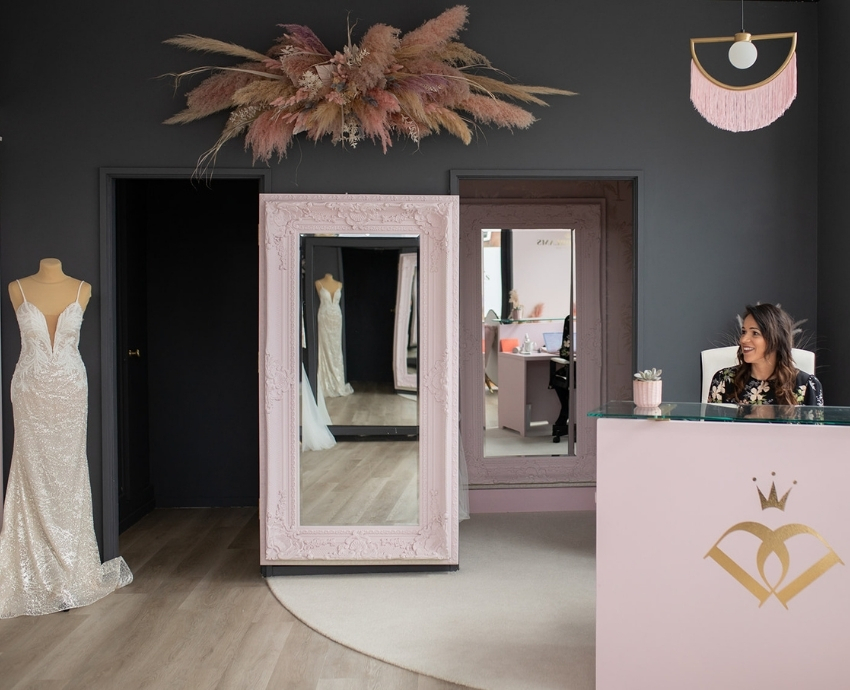 Now you have renovated, how do you approach your window displays?
Our boutique has a large window frontage on two sides. I spent a lot of time thinking about the window displays as I wanted to let the light in but also keep it private and secretive so that customers felt secure and cosy when inside. Our solution to this was to install the most stunning frosted decals featuring our brand iD and new motif. This has also meant we have been able to reduce the number of mannequins we display and I think this is more striking, not to mention easier to keep on top of!
Finally, can you give us your top three tips for creating a stunning interior?
Be clear about your brand image and vision before you start. This was the driver behind everything we did, and this made the process so much easier.
Know your strengths and weaknesses and get help where you need it. I knew I had a strong vision for what I wanted but needed a bit of help with the layout in the space we had available. So, I worked with a builder and an interior designer on that aspect of the project which was money well spent.
Be brave!