Attending London Bridal Fashion Week: How to Get the Most From the Show
Maria Musgrove and Christine Skilton, Co-Creators of Get Savvy share their top tips for getting the most out of your next buying trip to London Bridal Fashion Week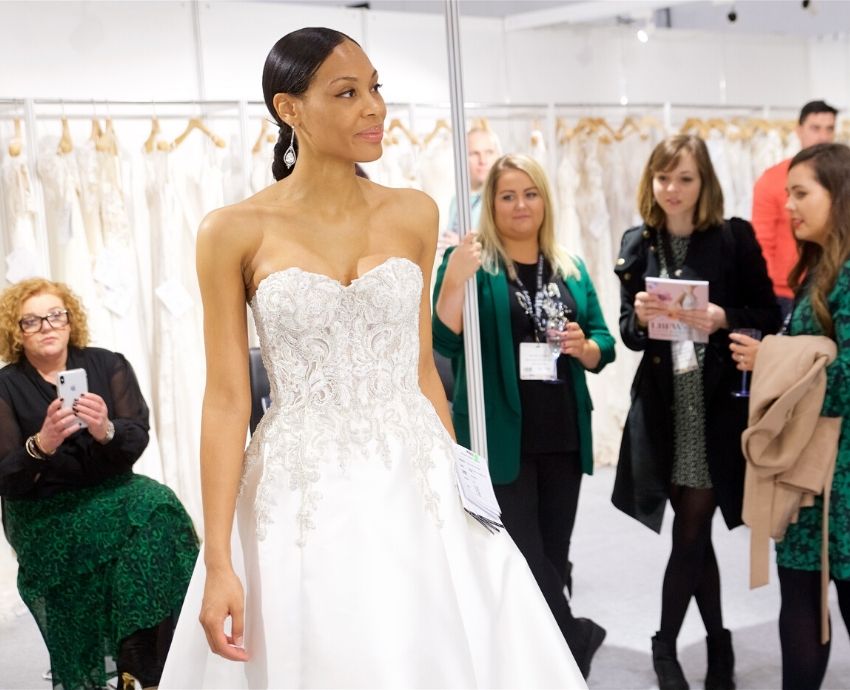 The reputable London Bridal Fashion Week will return to ExCeL London in March for another exceptional show. For bridal retailers, this is an opportunity to make buying decisions for your business, network with industry professionals and preview the latest bridal fashion trends, all under one roof.
However, before attending any bridal trade show, retailers must be prepared. Thankfully, Maria Musgrove and Christine Skilton, Co-Creators of Get Savvy have shared their 'Eight R's of Preparation' to make this a little easier.
Research
Whether you're new to the bridal industry and this is your first show or you're a seasoned attendee and this is your fifty-first, you must do some pre-show research. For 'newbies' it's a good idea to think about your ideal bride. Research the demographics you will be selling to and try to find brands that would appeal to them. In addition to this, do some research into your local area and check if any other boutiques stock that brand. Exclusivity is common in the bridal industry and it's best to check before getting your heart set on a brand.
For seasoned boutique owners, we can often suffer from the sin of complacency. It's vital to pay attention to the changes in the marketplace and modernise your business to stay relevant. Research what brands and designers your customers are interested in and make sure your labels reflect their preferences.
Review and Re-Evaluate
Many retailers often face the risk of having too much of the same thing, whether it's too many sweetheart, fishtail, or lace dresses. Take a look at all of the brands you stock and decide if your suppliers are offering more of the same. If this is the case, then it may be time to work out an elegant exit strategy and start scouting for new talent.
However, before you do this take a look at your return on investment (ROI) as you need to make business decisions based on facts not feelings. We suggest re-evaluating and reviewing your stock twice a year so as to not get complacent. This also ties in perfectly with UK bridal trade shows London Bridal Fashion Week and The Harrogate Bridal Show.
---
---
Return on Investment (ROI)
If you only do one thing to prepare ahead of London Bridal Fashion Week, then we suggest that you look at what return on investment you are getting from your current suppliers. How much retail space do they have? How well are they selling? How much have you invested? How many repeats are you doing? And finally, how many more samples are you being asked to buy each year?
Resources
By this we mean budget! If your account is on stop or Pro-forma because you haven't yet paid for the samples from your previous buying trip, then it's time to go back two steps. We would also suggest that conversations with suppliers take place pre-show and not during. How would you react if a bride started talking about quality, delivery and payment plans when you're trying to sell on a busy Saturday in your boutique?
Regimented Plan
Whether you currently own a bridal shop or are planning on opening one soon, it's wise to have a regimented plan in place before attending London Bridal Fashion Week. In addition to this, we strongly advise making appointments with suppliers so you can maximise and optimize your time at the show.
If you've discovered a new label, don't be complacent. Several of your competitors may also be circling, so you may need a seduction strategy. You may have to sell yourself to them as much as they need to sell themselves to you.
Reflection Time
When planning your time at the show, remember to build in some time for reflection. Our top tip would be to make provisional orders and finalise either at the end of the show or within a few days of being back in your boutique. Put your business hat on and evaluate each collection independently, imagining the gowns sitting on your rails alongside your current stock.
R & R
In your packed schedule, build in some time to relax. Attend at least one of the seminars at The Bridal Retails Success Academy or catch up with fellow retailers at one of the many networking events. This will give you plenty of time to talk with others in the industry and give you a clearer mindset for the following day.
Re-Entry and Reality Check
How soon after the show do we come back down to earth? Is it after the feet and head stop throbbing, the show bag has been emptied of its goodies, social media content has been vetted for suitability or when the calculator comes out and you come out of denial realising you didn't keep to budget?
Whenever it is, you mustn't be faced with buyer's remorse. To avoid this make sure you have been honest with yourself during the show. If you need to, negotiate on minimum orders, have a conversation on delivery and discuss payment plans. We guarantee if you plan to ask these questions before you hit the show floor, you will return from the event happy, excited and confident for the season ahead.
Maria Musgrove and Christine Skilton are bridal boutique owners with consultancy training, sales, marketing, IT and customer service experience within blue-chip companies. Their new project, 'Get Savvy' has been created to educate new and established shops in the secrets of a successful bridal boutique. For more information on their services, visit their page here.
Maria Musgrove will be taking part in the Business Advice Clinic at London Bridal Fashion Week between 10 am and 12 pm on Sunday 22 March. If you haven't already, register for the event here.